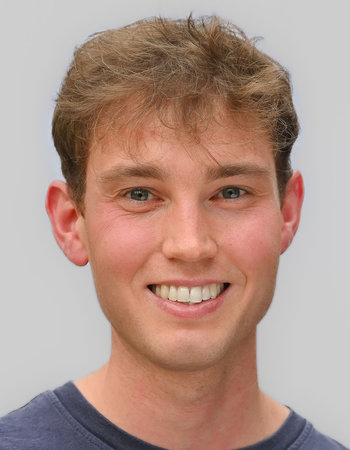 Max A. B. Hinrichs
Doctoral Candidate
Research interests: • spatial navigation • cognitive maps • episodic memory • fMRI, MEG, (i)EEG • computational modelling and artificial intelligence
Academic education
since 2021 Doctoral candidate, Max Planck School of Cognition, Leipzig, Germany
Lab rotations in the orientation year: Hauke Heekeren & Rasmus Bruckner, Christian Doeller & Nicholas Menghi, and Nicolas Schuck
2021 Master of Science in Psychology, Georg August University Göttingen, Germany
2019 Bachelor of Science in Psychology, Georg August University Göttingen, Germany
Scholarships
2020 "Lower Saxony scholarship" (Niedersachsenstipendium) for exceptionally gifted students, Lower Saxony Ministry of Science and Culture, Germany

2019 Small grant for participant reimbursement for bachelor's project "Enhancing the ecological validity in tasks of implicit theory of mind", Fachgruppe Psychologie, Georg August University Göttingen, Germany

2018 PROMOS stipend for a 12-week internship at the Victoria University of Wellington, New Zealand, German Academic Exchange Service (DAAD), Germany

2017 Erasmus+ Key Action 103 Grant for exchange studies at the University of
Bergen, Norway
Poster presentations
Kulke, L., & Hinrichs, M. (2021). Measuring implicit Theory of Mind in live social situations with mobile eye-tracking. Poster presented at International Congress of Psychology, Prague, Czech Republic.

Kulke, L., & Hinrichs, M. (2020). Monitoring gaze during live interactions – A mobile eye-tracking study
investigating Theory of Mind. Online Poster presented at Flash of the DGPs Conference, Vienna, Austria.
Publications
Kulke, L., & Hinrichs, M. (2021). Implicit Theory of Mind under realistic social circumstances measured with mobile eye-tracking. Scientific Reports, 11:1215. doi:10.1038/s41598-020-80614-5
Hinrichs, M., & Kulke, L. (2019). Testing anticipatory looking implicit Theory of Mind paradigms under
more realistic social circumstances. Preregistration with the Open Science Framework.
doi:0.17605/OSF.IO/NTJ2Y