Partner
Universities, Max Planck Institutes, and other research institutions
The Max Planck School of Cognition has established an interdisciplinary hub of expertise in the field of cognition by bringing together world-renowned scientists. Our School offers students the unique opportunity to do lab rotations across an excellent network of partners institutions.
Sponsoring by the German Federal Ministry for Education and Research
Our partner institutions at a glance
Fellows conduct their research at world-renowned universities, Max Plank Institutes and other research institutions such as the Helmholtz Association, Fraunhofer-Gesellschaft or the University College London.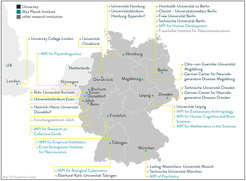 Partner institutions of the Max Planck School of Cognition
"main partner universities" ( Tragende Universitäten) (in alphabetical order)
Partner universities (in alphabetical order)
Max Planck Institutes (in alphabetical order)
Other research institutions (in alphabetical order)