International Office
Every September, a new cohort of students joins the MPSCog graduate program. Moving to a foreign country, possibly even a foreign continent with different cultures, comes with many challenges. Our International Officer Nicole Lorenz especially supports our international students throughout the onboarding process in order to ensure a smooth and swift transition to Germany.
Onboarding steps after admission to the program
The checklist below (Figure 1) provides an overview of which steps need to be taken care of and when. Some processes run in parallel and some only apply to international or master students.
Our International Officer will guide you through all the processes and supports you for example with the entry visa, making appointments with German authorities, or getting health insurance.
Further onboarding steps
Due to long waiting times and processing times, it is recommended that appointments with German authorities are made before even entering the country. Figure 2 shows the steps that are necessary after arriving in Germany. Some of them are time-sensitive and extra challenging as - due to lab rotations - the students change cities every three months. Thus, our International Officer will monitor the onboarding processes of each students very carefully.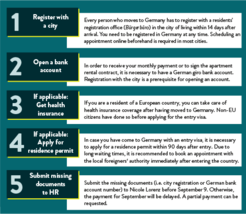 More information is available in our handbooks - for the orientation phase or the doctoral phase.