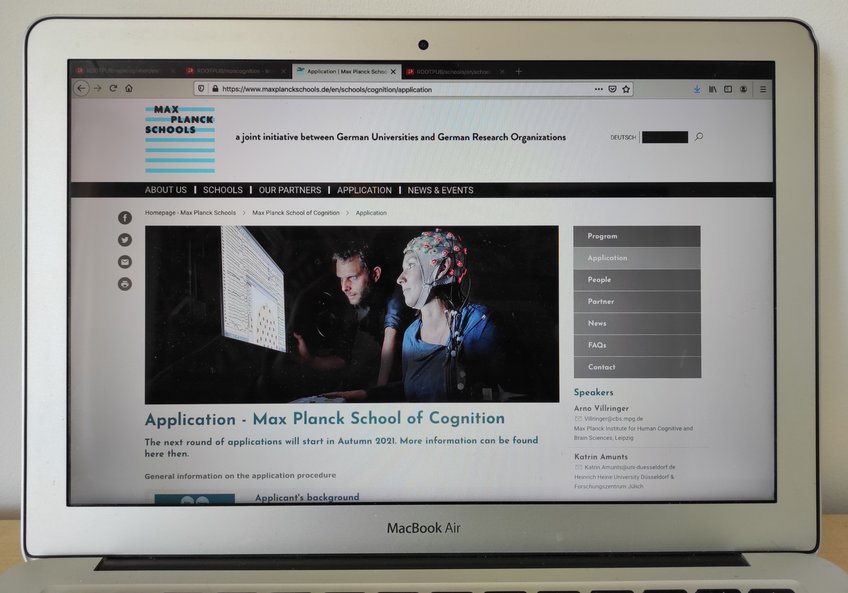 Application
Each application cycle starts in Autumn on a yearly basis (from 1st of September until December). The current application phase has just started and all materials must be submitted via our application portal. The program starts each year on September 1st. Please follow link below.
General information on the application procedure
Your complete application needs to be submitted through our online application portal . Please prepare the following documents:
Certificates or proof of current enrollment (B.S. and / or M.S.) (see FAQs 1.3-1.5)
Your high school diploma
Copy of your passport / identity card
Academic curriculum vitae
Personal statement (see FAQ 2.2)
Names of four preferred fellows from the Max Planck School of Cognition for your lab rotations during the orientation year (1st year). You may also choose (ONE) faculty from our Adjunct Faculty
Names of three potential supervisors from the Max Planck School of Cognition Fellows for your doctoral phase (2nd - 4th years; please do not contact the potential supervisors ahead of admission to the program; only necessary to identify 3 names of interest in the application)
Contact of two referees for recommendation letters (see FAQs 3.5-3.6). Note, the deadline of the application call also applies to the referees
Non-native English-speaking applicants must provide evidence of their English language proficiency (see FAQs 1.11-1.12)
Graduate Record Examination (GRE) scores (waived in 2021 due to pandemic)
Applicant Support Program
Are you looking for guidance in preparing your application for the Max Planck School of Cognition (MPSCog), but do not have easy access to academic support/resources?
Our Applicant Support Program is specifically designed to give applicants with a lack of certain resources or support an additional opportunity to improve their application. The program offers a one-time-only individual consultation/feedback on your application from a current doctoral candidate of the MPSCog. This consultation will be with respect to your CV and motivation letter only.
The deadline to apply for this program is October 31st, 2021 with limited capacity on a first-come-first-serve basis. It may fill the available places sooner than October 31st, 2021 dependent on response.You can access the applicant support program via the application portal when logging in.
Note: The Applicant Support program is independent of the screening and evaluation of complete applications, and will have no bearing on the final acceptance/rejection of the applicant into the MPSCog.
The Max Planck School of Cognition aims to recruit excellent students from all genders, nationalities, ethnic and social backgrounds, sexual orientations, and physical abilities. As part of our commitment to equal opportunities and diversity, we especially encourage applications from individuals who belong to underrepresented groups in science, such as women and people with disabilities.
We will waive the GRE requirement again for the upcoming application cycle (Fall 2021 for 2022) due to the pandemic.